Kiss of the Paraghost
résine, vidéoprojeteur, miroir, 400 x 380 x 140 cm
hôtel Pommeraye, 2012
For my art residency at hotel Pommeraye, I imagined Kiss of the Paraghost , the manifestation of a fantastic contamination of the building. I produced the Paraghost, a resin envelope temporarily fixed outside the building for the Voyage a Nantes. The Paraghost is the molding of a wad of waste from hotel and neighboring shops. Hanging on the facade of the building at the crossway of rue Crébillon, rue Santeuil and rue Boileau, like an outgrowth, it shines at night with colored lights. These are the random magma of channel 99 diffused in the 50 rooms of the hotel and projected inside the sculpture. Simultaneously a shapeless "white lady", a spectacular parasite, a magical waste, the Paraghost expresses the appetite of a "panic civilization" excited by the expected end of the world.
Dans le cadre de ma résidence à l'hôtel Pommeraye, j'ai imaginé les manifestations d'une contamination fantastique du batiment et réalisé le Paraghost, une enveloppe de résine fixée temporellement sur la façade de l'immeuble, à l'occasion du Voyage à Nantes. Le Paraghost est le moulage des déchets de l'hôtel et des commerces voisins. Accroché sur la façade du bâtiment à l'intersection de la rue Crébillon, de la rue Santeuil et de la rue Boileau, comme une excroissance, il est animé de lumières colorées visibles la nuit. Il s'agit du magma aléatoire du canal 99 diffusé dans les 50 chambres de l'hôtel projeté à l'intérieur de la sculpture. À la fois "dame blanche" informe, parasite spectaculaire, déchet féérique, le Paraghost exprime l'appétit d'une « civilisation panique » excitée par la fin du monde attendue.
vue depuis la rue Crebillon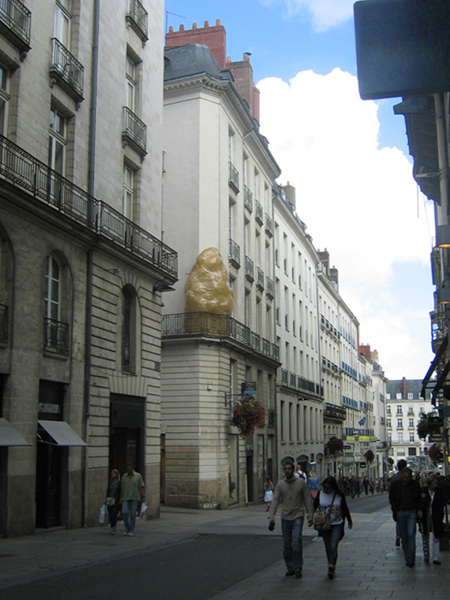 vue depuis la rue Santeuil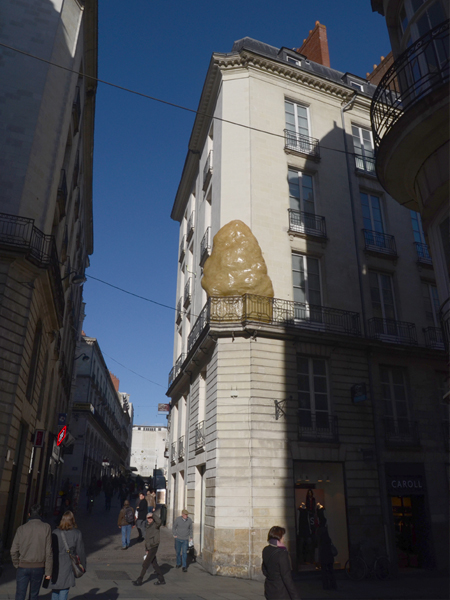 parcours du Voyage a Nantes 2012

Preparation